Helping Businesses Build & Protect Their Brands
Via Trademark Law
---
Intellectual property (IP) is increasingly becoming one of the most valuable assets of a business. The overarching value of IP has been steadily rising in import as a business asset to protect and capitalize upon as the global economy increasingly moves toward a data-first economy. In a digital world, brands and the protection of such brands play a leading role.
A trademark is one of the most common types of IP, in addition to copyrights and patents, among other related IP types such as trade secrets. While trademarks may seem relatively straightforward on their face, the process and nuance surrounding a trademark's lifecycle are complex. Some common considerations include the distinction between a common law trademark and a registered trademark, the nuances of successfully pursuing trademark registration via the USPTO and navigating associated office actions, avoiding common errors in TEAS (the Trademark Electronic Application System), whether the USPTO requires you to use an attorney for trademark registration, and enforcement post-registration. These are only a few of the myriad of critical components that a business must account for when establishing value via trademarks.
As a trademark registration lawyer, RICHT understands the value of trademark law and how, when correctly navigated, it can result in great returns, whether through brand-building, a subsequent business acquisition, licensing, or via other means. The converse is true, too, though. Trademarks, when either incorrectly pursued, such as may be more likely to occur when done through DIY (do it yourself) online trademark services, can result in a host of issues ranging from the refusal of registration or even litigation.
Our singular goal is to help our clients seamlessly navigate the trademark lifecycle, including:
Trademark Search & Clearance: We conduct a comprehensive trademark search to determine if your desired mark is available for registration.
Trademark Strategy: We assist in formulating a trademark strategy that is more likely to result in a successful registration.
Trademark Application: We prepare and file your trademark application with the USPTO utilizing our experience to structure the application to maximize the chances of successful registration.
Office Action Responses: In the event your trademark application is subject to an "office action" by the USPTO, we can help you respond to resolve the problems identified and get your application approved.
Trademark Registration: Once your trademark application is approved, we help you navigate trademark publication for opposition and registration so you can use the ®.
Trademark Monitoring: We help ensure that you maintain your trademark and monitor for infringing use that, if left undisputed, could result in the loss of your trademark.
Trademark Enforcement Against Infringing Use: If someone infringes on your trademark, we help you enforce your rights through a variety of means, including litigation.
The benefits of Working with RICHT to secure your trademark registration include:
Experience With Trademarks: Our firm has counseled clients on a range of trademark law matters ranging from registration to infringement.
A Full-Suite Of Trademark Law Services: We provide clients with a full suite of trademark law and related IP services, from registration to licensing.
Law That Knows Business: The ethos of our firm is "Law That Knows Business," which summarises our focus on understanding our client's business goals and formulating legal solutions that help them attain those goals in an effective and efficient manner.
Affordable Flat Fees: We aim to provide our clients with cost certainty via flat fees so that incentives are aligned, and you can be confident that you are getting legal services in a cost-conscious manner.
---
Related Intellectual Property Law Services We Offer
---
---
Some Of The Types Of The Brands We Can Help
---
eCommerce
Service Providers
Manufacturers
Celebrities & Influencers
Amazon Brand Registry
---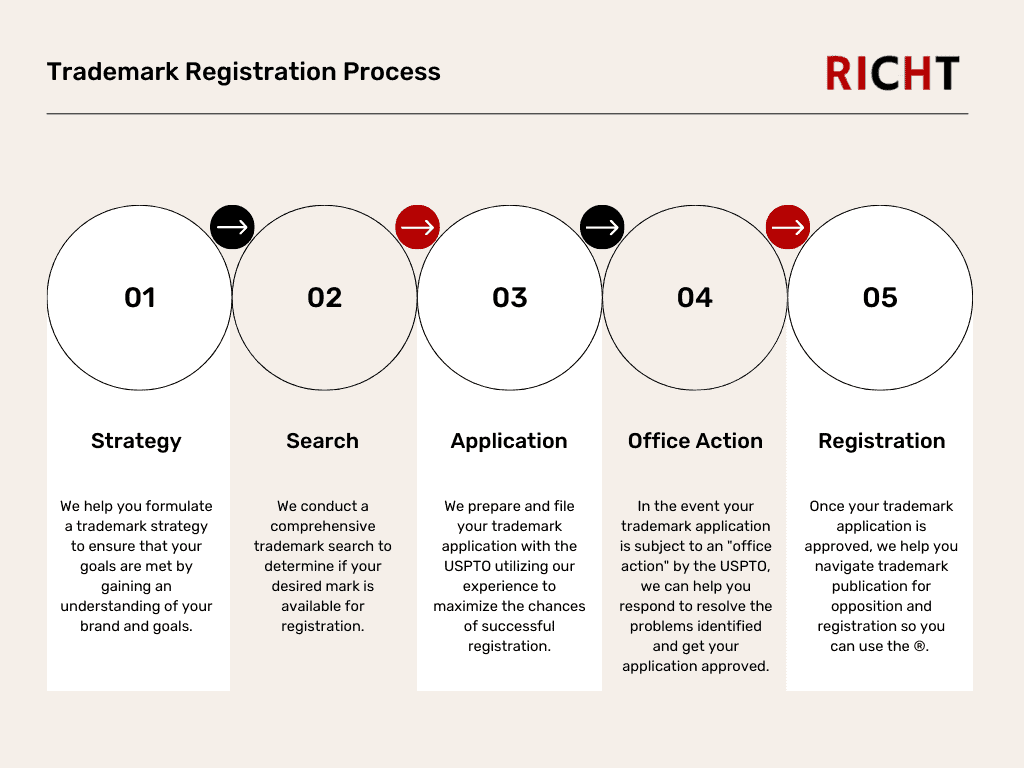 ---
"OWN YOUR BRAND" VIA THE ®
---
---
Find Out About How We Can Help Build & Protect Your Brand Via Trademark Registration
---
Trademark Registration
 Law News