Helping Clients Navigate The
Dynamic Area Of The DPF For EU-U.S. Data Transfers
---
The EU-US Data Privacy Framework (DPF) is the latest development in a saga that has now been spanning decades aimed at reconciling and streamlining cross-border data transfers from the European Union (EU) to the United States (US). The storied history of data transfer mechanisms and the invalidation of each, ranging from the Safe Harbor to the Privacy Shield, including the role of Max Schrems' NGO called NYOB and the eponymous Schrems II decision, has caused much tumult and resource expenditure among many organizations.
The DPF is an adequacy decision that concludes that the US provides a "level of protection essentially equivalent" to that of the EU for personal data transferred to certified organizations in the US.
Underpinning the DPF are several principles organizations must adhere to attain and maintain certification, which include those of notice, choice, accountability for onward transfers, security, data integrity and purpose limitation, access, and recourse, enforcement, and liability. Further, redress also plays a leading role under the DPF. Specifically, redress aims to ensure that US intelligence activities are "necessary and proportionate in the pursuit of defined national security objectives." As part of this, establishing an adjudicating function called the Data Protection Review Court (DPRC) will allow residents of the EU to initiate a process whereby the DPRC may instruct the relevant intelligence agencies to take remedial actions.
With so many previous iterations of data transfer mechanisms being invalidated and further challenges in the offing, it is uncertain what the future of the DPF is. That said, RICHT is at the forefront of this dynamic area and is focused on helping clients stay ahead of the ever-evolving regulatory landscape.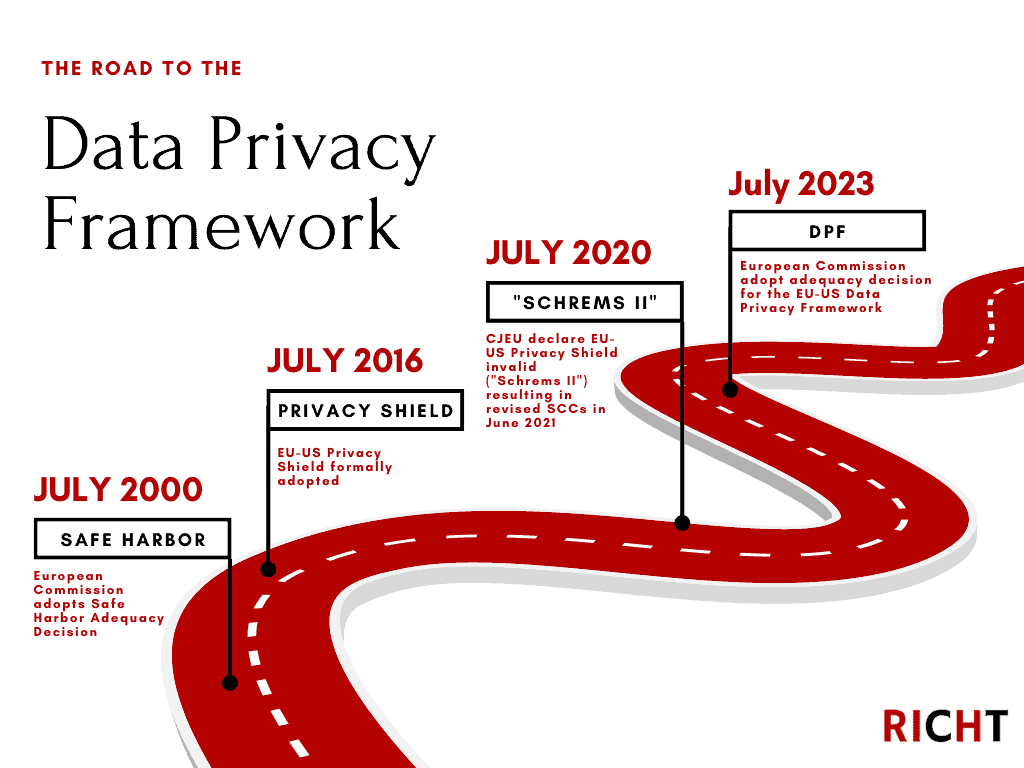 ---
Data Privacy Framework (DPF) Law Services We Offer
---
Data Privacy Framework (DPF) Certification
Other Data Transfer Mechanism Implementation
Ongoing Data Privacy Framework (DPF) Compliance
---
"Transatlantic data flows are critical to enabling the $7.1
trillion EU-U.S. economic relationship. The EU-U.S. DPF
will restore an important legal basis for transatlantic data
flows by addressing concerns that the Court of Justice of
the European Union raised in striking down the prior EUU.S. Privacy Shield framework as a valid data transfer mechanism under EU law."

Source: Executive Order to Implement the European Union-U.S. Data Privacy Framework
---
Find Out About How A Data Privacy Framework (DPF) Lawyer Can Help
---
Data Privacy Framework (DPF)
 Law News

IAPP
Implementing Transatlantic Transfers
This chart outlines the key changes and requirements for U.S. organizations participating in the Data Privacy Framework, whether they are transitioning from the Privacy Shield or newly self-certifying, and for EU organizations transferring data to U.S. organizations, including to U.S. organizations not certified to the Data Privacy Framework.